Services
Patents
Utility Models
Trademarks
Industrial Design
Copyright
Consultancy
Litigation
Surveys/Reports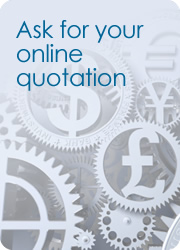 Online Quotation
Our office is pleased to offer a free quotation service to anyone interested in filing a trademark, invention patent or an example of industrial design.
To do this you must fill out the form in the online quotation section, inserting the data required for proper assessment and the general details needed so that you can be contacted.
The commitment required to complete the form is very small and will enable our office to offer a quick quote to suit your needs.
To get exclusive rights in a specific country it is necessary to obtain a valid industrial property title (trademark, patent, etc.) for that country. 
Fill out the following form to provide some information about the trademark you have created.