Services
Patents
Utility Models
Trademarks
Industrial Design
Copyright
Consultancy
Litigation
Surveys/Reports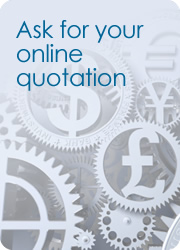 About Us
We are people who believe that the fruit of your genius deserves the utmost care and must be entrusted to a reliable expert, who will also be the point of reference for all your activities related to the protection of industrial property.
The characteristic feature of our firm is the capacity to offer its customers a twofold legal and technical viewpoint that offers highly skilled assistance in problems related to patents and trademarks.

Online Quotation
Our firm is pleased to offer a free quote service to anyone interested in filing an application for a trademark, invention patent or an example of industrial design. To do this you must fill out the form in the online quotation section, inserting the data required for proper assessment and the general details to be contacted.